Curating Content for Animal Health Professionals
Animal Health Digest, LLC is a content curation and aggregation service for animal health professionals. We continuously read and review more than 150 publications that produce articles, studies, reviews, white papers and other material for:
veterinarians
veterinary professionals
veterinary support staff
companion animal owners
livestock owners
It is impossible for today's professionals to read each of these media at a glance, much less in depth. Our team uses the latest digital tools to source and aggregate articles so that you can access them quickly. Easy sorting and synopses help you read what you need when you need it. You can then put the information to work.
Through daily blog posts and weekly email bulletins, AHD "reads for our industry" and gives you summaries and important excerpts from the articles. Many posts include INSIGHTS about how to use an article to help improve your business and better serve your customers.
Sign up to receive our free weekly email bulletins!
Your Animal Health Digest Team
Kirk Augustine, Founder and President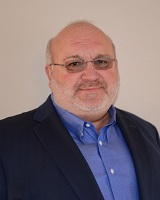 Kirk Augustine is an animal health industry consultant and adviser. He has more than three decades of work and consulting experience in manufacturing and distribution, including channel strategies; reorganization, marketing, sales, purchasing, inventory control, training and campaign development.
Most recently, Kirk provided support services and content to animal health manufacturers, distributors and industry aggregators throughout North America as executive vice president of business development at Veterinary Advantage.
He understands how important current information is to animal health professionals. You are often asked questions that are generated by a media source only your customer has seen. Kirk leads a team of professionals who scrutinize current media to discover, summarize and share the latest content that helps you be aware of what your customers and peers are reading. This lets you be better-informed and deliver more value to your customers.
Contact him at: kaugustine@animalhealthdigest.com
Adam Augustine, Ph.D., Director of Technology and Analytics
Adam Augustine leads research, analytics and data management for AHD. He also manages big data initiatives in the hunting and shooting sports industry and is the president and CEO of Beta-Zero Research Solutions, an animal health analytic and research firm.
He earned his Ph.D. in psychological science from Washington University in St. Louis, and served in several academic positions where he conducted research on statistical methodology, behavioral economics and individual differences.
Contact him at: aaugustine@animalhealthdigest.com.
Rachel Augustine, Director of Internet Operations
Rachel Augustine manages the design and implementation of web communications for AHD. She has more than eight years of experience in nonprofit development, with a focus on strategic communications and design. She has spent the last few years managing fundraising campaigns for youth development programs. Rachel also works as a freelance graphic designer.
Contact her at: raugustine@animalhealthdigest.com.